I can't believe I missed Friday Fancies last week. So lame. But don't you worry--- I'm back again! Still loving green (did I mention my new kate spade bag is emerald? So excited), and I once again worked it in to one of my looks. I'm definitely a layering girl in real life. It rare that you'll find me with out a cardigan. I may have a problem actually. I wear sweaters in 100 degree weather in the DC summers. Crazy.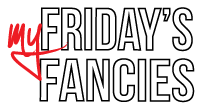 Hope all of y'all have a great weekend!!! Stay safe for those of you in the snow up here in the Northeast! Thankfully we are just a little wet in DC. No snow for us!
Oh and congratulations to the lovely ladies behind
Wil.Harris
on winning the Mardi Gras Giveaway! Send me your mailing address ASAP gals, so I can get you some beads before Tuesday!