Friday's Fancies is here again, Yay! And this one may be my favorite to date, why you ask? Isn't this what all of us "fashion bloggers" dream about? Dressing for the red carpet? I know I do. I love reading posts of over the top hair, lusting over stunning makeup far too dark for everyday. and then there's the sparkle aspect. Lord knows I'm obsessed with sparkle and glitter (not quite sure when I became that girl, but I'm okay with it) and aren't sparkly jewels kind of a red carpet requirement? I think so.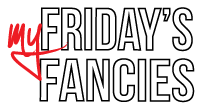 If there was ever a Friday's Fancies to go all out this is it. I mean, come on gal's this is the oscars. This is probably this most expensive outfit I've ever put together... but it's one of my favorites too. This weekend we will see hollywood glam at it's finest, and when I saw this dress I couldn't help but gasp. Grey. Sparkle. Vintage. Glamor. What more could you ask for? I wanted this dress to be the spotlight of the whole look, so I went with neutral accessories. Beautiful grey pumps. Just enough vintage jewelry with out over doing it. Plus just a hint of color with the clutch.
A beautiful intricate up-do and a perfectly crafted smokey eye. I'm dying. I need this outfit. Can I please go to the oscars and wear this? I'm sure I could give Anne Hathaway a run for her money.
So what do you lovelies have in store for the weekend?
This girl
and her hubby are in town tonight, but other than that I'm not sure. I feel like I need to take advantage of living in dc more... so I may go be a tourist... who knows. Hope y'all have a fabulous weekend!