Happy Monday Folks!
I just wanted to start off the week by thanking all of you who commented on my
politics post last week
. Politics is something I really care about, so I'm excited that y'all are eager to read my opinions. Your sweet comments really meant a lot to me, so thank you.
On a completely different note, it recently occurred to me the other day that I haven't shared one of my favorite DIY's that I use religiously. I make my own laundry detergent, and it's awesome.
I saw this on a blog somewhere and the girl just raved about how much money she saved and how awesome it was, etc. So I thought, "
hey, why not give it a shot? I like saving money."
So I went for it. This is hands down the best laundry detergent I've ever used (I started doing my own laundry at age 12 so I've had quite a bit of experience for my young age).
There are so many "feel good" benefits of making your own laundry detergent. It's "green" because this detergent is low suds so it doesn't pollute the water, and is safe for new front load washers. You aren't wasting water because it's powdered. You aren't wasting money on packaging, nor are you generating anywhere near the trash because you have to buy the ingredients so infrequently. Plus this doesn't have any heavy fragrances or dyes, so it's safe for sensitive skin.
You only need three things to make it. Borax, Washing Soda and Soap (try fels-naptha)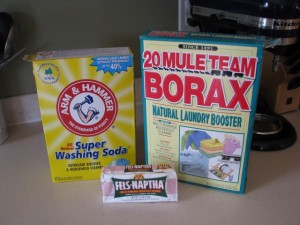 Borax
($3.38) (.42 per batch)
Washing Soda
($3.29) (.48 per batch)
Fel-Naptha Soap
($.99 per batch) (grate this with a cheese grater, or in a food processor)
Find a container that holds at least 4 cups (I used a 32oz yogurt container) Add a cup of Borax, a cup of washing soda and your fels-naptha. Shake it up until the three ingredients are relatively distributed. You'll only use 1 tbsp per load (medium size loads, use 1-2 tbsp for larger loads). That means that 1 batch will make 64 loads, ONLY 2.9 cents per load!!!! I mean what? Woah.
Powder Tide
is $.44 a load;
Liquid Tide
is $.24 a load. Not that I do a ton of laundry, but everyone loves a savings right?
Seriously I can't rave about this enough. While the soap grating is a slightly labor intensive process, I think it's totally worth it!
Do y'all have any good DIY's? Have you tried this? I'd love to know!